Air Conditioning Installation in Colorado Springs, CO
Quick. Reliable. Quality.
Your first choice for HVAC installation and air conditioning installation in Colorado Springs is
True North Heating & Cooling.
Professional AC Installation & HVAC Installation
With over two decades of experience, let our team provides the best HVACs in Colorado Springs.Let our experts help your AC installation or HVAC installation go off without a hitch.
Keeping your home cool is crucial during hot Colorado summers. As the leader in air conditioning installation in Colorado Springs and the surrounding region, we guarantee quality, lasting results. We offer professional HVAC services without the premium pricing.
If you have questions or concerns about your AC installation, call the HVAC professionals at True North Heating & Cooling now!

Air Conditioning Repair
Our professionally trained technicians provide air conditioning repair services for all makes and models of AC equipment.
---

Property Managers
With over two decades of experience, let our team help you by keeping your property's HVAC systems maintained across the long haul.
---

Water Heaters
True North Heating & Cooling is Southern Colorado's choice for all your professional water heater needs.
---
Your AC Installation Team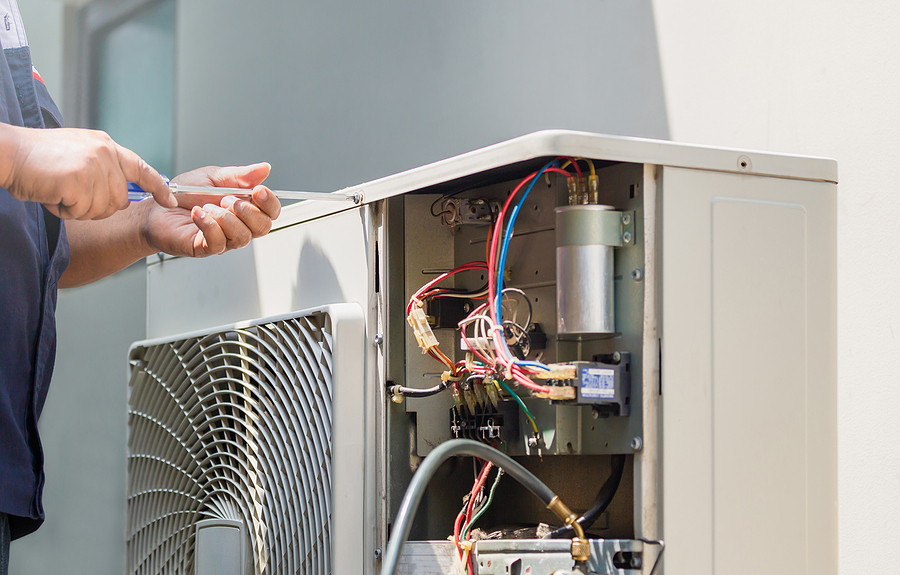 Air conditioning is fast becoming a Colorado necessity, and with over two decades in the industry, we've got the experience to handle all your commercial and residential HVAC installation needs.
At True North Heating & Cooling, we know how important comfort is to you.
By treating every home and business like it's our own, we give each customer the very best in professional HVAC services, including air conditioning repair, heating installation, AC installation, and other HVAC services.
Moreover, we also handle any swamp cooler or water heater issues as well as offer complete HVAC maintenance or HVAC inspection services across all of Southern Colorado.
Give us a call today!
---
Why Choose Us?

I'm Isaac Hackler, owner of True North Heating & Cooling.

I have been an HVAC contractor for over two decades, and carry almost 50 vendor certifications.

My team's focus on customer service during all phases of your heating or furnace repair has been a central pillar to our success.

Moreover, knowing that trust is earned and is a valuable asset to a company, we value our relationships with not only our clients, but with property managers and their clients.  

Our goal with clients & property managers is to provide the best possible service in a timely manner to earn the trust that is so essential to having a reliable and stable relationship.  

We offer the same 24-hour service and response times to our property managers that we offer to all of our clients. We service and repair all makes and models of heating and cooling equipment in both the residential and commercial applications.

Finally, we seek to provide the best possible service to all properties including residential homes, apartment complexes, multifamily homes, and commercial office buildings. 

Our current clients know that they can call on True North Heating & Cooling to get the services desired at a fair price and in a timely manner.

They know that they can count on getting the job done right and an honest answer on the exact remedy to the problem at hand.
The True North Guarantee

Our HVAC equipment carry manufacturer warranties that last up to 10 years if you register your unit.

Moreover, we offer a 1 year labor warranty on new equipment installs, and all repair parts are warrantied for 30 days.
AC Installs: 10 Factors to Consider

AC Installation Tips

1. Cost

Many consumers make the error of purchasing the least expensive AC unit available to save costs.

Unfortunately, costlier units prove to be much more cost-effective in the long run.

Therefore, they consume limited amounts of energy, reducing utility costs month-in and month-out.

As a result, choose an ac service team that understands which unit will be best choice for your needs.

2. Quality

After considering cost, quality comes next when planning an HVAC installation.

Costlier systems are often of higher quality and subsequently last longer and require less air conditioning repair and HVAC maintenance.

You should focus on the specifications of each AC unit, & invest in a higher quality system to ensure you do not have to repair or replace your air conditioner frequently.

And don't forget, for questions on this or any other HVAC installation issue, just send us a message or call now!

3. Size

If your AC is too small, you have to run it continuously, resulting in higher consumption of energy.

Conversely, large AC systems cool air quickly and the on and off cycle is extremely fast.

Therefore, they are not able to dehumidify air effectively.

In addition, make sure that the AC unit has a suitable size and can be easily placed at the desired ac service location.

4. Efficient Ductwork

Old or inefficient ducts tend to leak up to 20% of cool air in the environment.

You can hire the services of a professional company or an AC technician to resolve problems with ducts.

Before installing an AC system, it is necessary to ensure that your ductwork is in good condition.

Seal the joints so that cool air stays in the room.

5. Energy Consumption

You must check the energy efficiency rating, also known as EER rating, to identify the most cost-effective solution.

The higher the rating, the more energy efficient is the system.

The rating ranges from 8 to 11.5.

Energy efficient AC units are suitable for environment. They do not emit harmful gases or heat in the environment.

Modern systems come equipped with functions such as variable fan speed, sleep settings and digital temperature controls.

Make sure that you purchase an energy efficient AC system to decrease your electricity bill.

And don't forget, for questions on this or any other HVAC issue, just send us a message or call now!

6. Air Quality

The quality of air should be checked to ensure the well-being of those breathing it.

It is also extremely important to maintain air quality to ensure that your HVAC systems provide efficient cooling.

AC systems have pre-defined requirements for specific air quality. These specifications are issued by manufacturers.

You can hire the services of a professional company to find the most suitable and cost-effective air quality control device.

They also check the ducts and repair them so that cool air stays within the room.

7. Durability

A durable AC unit ensures that you can save costs in the long run.

Moreover, the system should have a valid warranty.

You should choose a durable AC system that does not need frequent repairs or replacement.

You can find the right model by either carrying out research on your own, or hiring a professional HVAC contractor.

8. Installation

Install the AC system at a location from where it can efficiently keep the room cool.

Moreover, the condenser of the AC should be kept in a shady space.

Keeping it in overly bright areas can affect the system and overheat it. As a result, it will not be able to cool the room as required and will need frequent maintenance.

Moreover, the airflow should also be in control to save additional costs. Keep the surrounding area clean for efficient performance.

And don't forget, for questions on this or any other HVAC installation issue, just send us a message or call now!

9. Maintenance

AC units are more inclined to function at top efficiency for years with regular HVAC maintenance.

Our maintenance plans give you peace-of-mind that your unit will continue to run in optimal fashion, year-in and year-out.

10. Additional Equipment

Sometimes it is possible to upgrade your existing AC unit with additional equipment.

Before purchasing the unit, complete your research and get the add-ons.

This practice ensures that the professional service can install all components with ease.

And don't forget, for questions on this or any other HVAC installation issue, just send us a message or call now!
6 Types of AC Units

HVAC Installation Tips

Not all air conditioning units are appropriate for every home. Having a basic knowledge of air conditioning unit types can help you save money, time, and electricity.

If you are planning to install an air conditioning unit for you home, you might want to consider the type of unit you need.

1. Central Air Conditioning Installation

This type of air conditioning unit is made up of an indoor unit, which houses the evaporator coils and air handler, and an outdoor unit, which houses the condenser and compressor.

This type of AC unit is suitable for larger homes, and will efficiently cool and reduce the humidity of your indoor air.

Air is regulated through the separately installed duct system.

2. Ductless Mini Split Air Conditioning Installation

Unlike a central AC unit, these units eliminate the obstacle of ducting.

In addition, the unit is mounted on the wall with air blowers. They are energy efficient & can help you conserve energy.

On the other hand, these types of units are suitable for cooling only a portion of the room.

In case you have a question on this or any other HVAC installation issue, just send us a message or call now!

3. Window Air Conditioning Installation

Simply put, heating bills increase as the heating system runs more frequently.

In addition, this causes an increase in utility costs, and increases your likelihood for needing heating repair.

Consequently, this could be a sign your furnace is going out.

Notwithstanding, a tune-up may be able to fix the issue and save you money.

And finally, letting one of our furnace repair technicians come take a look today can save you money tomorrow.

Nonetheless, we help you to weigh the signs that the furnace is going bad to make a financially sound decision.

4. Portable Air Conditioning Installation

Portable AC units are typically good for smaller rooms and do not require the hassle of installation.

Similar to window air conditioners, portable air conditioning units are enclosed.

The difference is that portable units can be moved from room to room. All you need is a power outlet, and your room will be cool.

5. Hybrid/Dual-Fuel Air Conditioner

This air conditioning unit is cost-efficient because it automatically switches fuels based on the outside temperature, combining both gas and electric power.

They are programmable and can be manipulated manually.

6. Smart Air Conditioner

Typically, a smart air conditioning unit is a mini split or window unit that is controlled through a smartphone.

With this technology, you can program the unit to reach a certain temperature at a particular time of the day or week.

Smart air conditioning units are known to be energy-efficient and convenient.

As their name implies, smart air conditioners require WiFi connectivity.

In case you have a question on this or any other HVAC issue, just send us a message or call now!
Heating & Furnace Installation FAQ

Heating & Furnace Installation Tips

Here's a list of some of the most common heating & furnace installation questions.

Q: How long do furnaces last?

Well maintained furnaces last 15-20 years.

Failure to receive proper HVAC maintenance from a licensed & professional HVAC Contractor can not only void your manufacturer warranty, but it can also lead to a shorter lifespan & pricey repairs.

It's also important to receive annual tune-ups for safety reasons.

Furnaces have both electrical & gas components; both of which can be potentially dangerous & even life threatening if not properly inspected.

Q: When should I replace my furnace?

While the average life expectancy of a furnace is 15- 17 years, the best way to know when to replace your furnace comes during annual interactions with your furnace installation technician.

A licensed & certified HVAC contractor will be able to listen to your concerns, make suggestions & offer solutions.

You must have a relationship in place with a company you can trust to do this correctly.

Q: What is the process for installing a new heating system?

The first step is to receive one to three estimates from licensed, qualified heating & cooling contractors.

Make a decision on which company & equipment is the best fit for your needs.

Next, contact the company you've selected & schedule the installation. The furnace installation company will then order the equipment & materials & schedule an installation crew to complete the project.

The morning of the day of installation, we will contact you to inform you with the estimated time of arrival.

A formal introduction and inspection com is customary upon arrival.

Our crews will be wearing shoe covers & laying down tarps to protect your home from outside dirt, dust & debris.

They will then remove the old existing equipment & then will proceed to install the new equipment.

The install team will cycle & test the equipment to ensure it is working properly & according to manufacturer specifications.

Once completed the install crew will show you how it works & ensure you have a full understanding of how to safely operate it as well as answer any questions you may have.

Q: Why is my heater making strange noises?

Most heaters have two electric motors driving fans that can become restricted or out of balance due to dirt or airflow restrictions.

The result is vibration that will produce noises wherever two surfaces are close enough to rub together.

Continuous rattles, rumbles, squeaks, humming, (people use so many describing words for these) are going to need to be traced down, and the root problem corrected.

Louder noise, such as booms, bangs, and anything that shakes the house is a very serious situation.

Whenever you are in doubt, turn your heater off and call a professional contractor for help.

In case you have a question on this or any other furnace installation issue, just send us a message or call now!

Q: What is the burning smell coming from my furnace?

With a new furnace install, this smell is oil that is used during the manufacturing process.

On startup in the fall, sometimes you will notice the burning smell. Sometimes dirt and dust will buildup on the outside of the heat exchanger.

This is normal & will burn off after the first few times running the furnace.

Q: How do I know if my furnace is broken?

You know your furnace is broken if it is:

not producing heat
not producing enough heat
making irregular noise
giving off an abnormal odor
leaking or producing excess condensation

If any if these things happen you will want to contact a licensed, qualified heating & cooling contractor.

Q: Which is best: gas or electric?

Gas is going to be the most cost effective. Electric by far the most expensive.

Q: How can I save money on my heating bill?

Getting annual maintenance or regular tune ups is the best way to ensure your heating system is running at peak efficiency.

Change filters regularly & ensure the areas around units are clean of debris. This is an easy & inexpensive way to save money on your heating bill.

If your heating system is over 10 years old or has needed frequent repairs it may be time to consider options for a new & high efficient furnace.

High efficient furnaces may be a larger investment upfront; however you will see a significant reduction in your monthly heating bill.

Q: Why are some rooms in my home warmer or cooler than others?

This is due to a variety of factors, and often is not due to one cause.

Possible causes include:

the direction of the room (is it north or south facing, etc.)
what floor the room is on
the amount of insulation in the attic
how many windows are in the room
if the room is above an unconditioned space such as a crawl space or garage
improperly sized duct work, etc.

Q: Should you turn your heating off in the summer?

Standard gas furnaces can be turned off during the summer simply by switch heat settings to cool settings on the thermostat.

Some boiler systems have a summer & winter mode setting on the thermostat or temperatures control.

Note: turning the pilot light off on your heating system in order to decrease energy consumption & increase utility savings is a common myth & holds no truth.

Q: What type of furnace is best for my home?

If you have plans to move in the near future & are not concerned with the ongoing monthly energy savings, you many decide that a basic builders model is the right furnace for you.

Get estimates (we recommend 1-3 estimates) from a professional, licensed HVAC Contractor.

Make sure to invest in quality & name brands which provide both reliability & high quality.

Q: What type of filter should I use for my furnace?

If you have a 1" filter we recommend using a non pleated fiberglass filter. If you have a media cabinet, use the manufacturer filter.

Q: How often should my furnace filter be replaced?

1" filters should be replaced monthly. Media filters can be replaced every three to six months.

Q: How often should I have maintenance on my furnace?

We recommend annual maintenance to ensure the system operates as safely and efficiently as possible.

Q: What size furnace is best for my home?

Each individual home is unique & has different factors that come into play when determining the right furnace for your home.

Answering this question requires performing a proper load calculation as well as details like shingle color.

In case you have a question on this or any other furnace installation issue, just send us a message or call now!

HVAC Repair
Our professionally trained technicians provide HVAC repair services for all makes and models of AC equipment.
---

AC Installation
True North Heating & Cooling is a premier air conditioning installation company in Colorado Springs.
---

Swamp Cooler
Evaporative cooling was the primary source of inexpensive, cool air temperatures before the invention of ACs.
---
Proudly Serving Southern Colorado.
Fort Collins to Fountain, Monument to Woodland Park.
---
Office
2520 Brady Dr.
Colorado Springs, CO
80917
Office Hours
Mon-Fri: 8am – 5pm
Sat: 9am-12pm
Sun: Emergencies
Email
tools@truenorthheating.com isaac@truenorthheating.com
Telephone
Tel: 719-452-1800